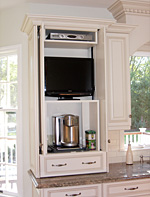 Detailed
Attention to detail is evident in this kitchen. A cabinet was designed and built
to house a television and all its components as well as providing a place to make
the coffee while leaving the countertop free of clutter. Everything has its own
place – from the spice drawers to the knife block and utensil dividers, keeping
this kitchen organized is a snap. The light paint and glaze finish creates a crisp,
clean feeling while the stained wood of the island invites you in.
Click on images to see enlarged versions.
C
ONTACT US FOR A FREE CONSULTATION
732.528.9427